Nelson the Stroke Virgin
Episode 4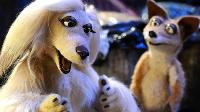 (Click the image)


Added on September 21, 2011
Destiny is awarded Animal of Courage 2010 and enjoys her moment in the spot light. Tension in the yard builds though as tomcat Marion is the true hero, but Destiny refuses to tell the truth about what happened. When things backfires though she is forced to admit the truth. Urban fox Nelson is determined to experience the feeling of being stroked by a human.